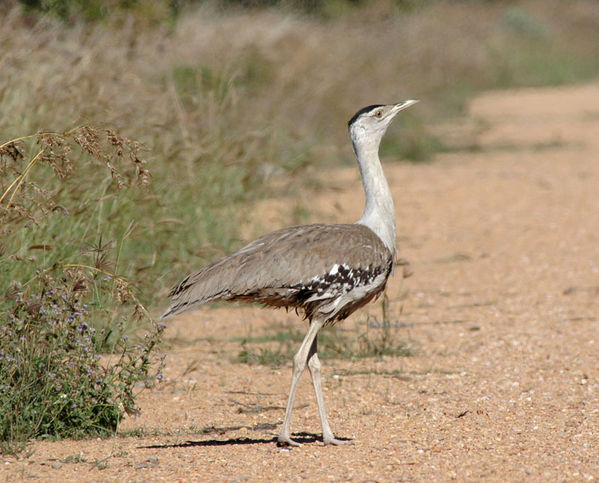 Australian Bustard

Photograph copyright: Stuart Harris - all rights reserved. Used with permission. (view image details)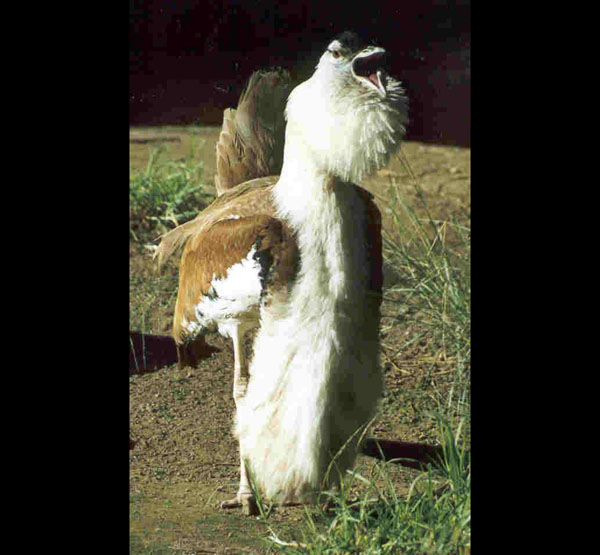 Male Bustard doing his mating display.

Photograph copyright: Antonio Barzaghi - all rights reserved. Used with permission.


AUSTRALIAN BUSTARD FACTS
Description
The Australian Bustard is a large ground dwelling bird from open country. Male much larger than female. The male has an elaborate display where he puffs up his neck into a balloon shape and expands his chest sac so that it drops nearly to the ground. As he dances from side to side, his drooping chest sac sways from side to side. To complete the display he fans his tail over his back and makes a booming/croaking kind of sound.

Size
0.8 - 1.5m tall. Wingspan 1.6 - 2.0m

Habitat
Grasslands, farmland, light scrub.

Food
seeds, fruit, mice, small reptiles

Breeding
1 or 2 buff eggs laid on bare ground

Range
Common away from built up areas.





Map is from Atlas of Living Australia website at https://biocache.ala.org.au licensed under Creative Commons Attribution 3.0 Australia License


Conservation Status
The conservation status in the 2004 IUCN Red List of Threatened Animals is "lower risk/near threatened".

Classification

| | |
| --- | --- |
| Class: | Aves |
| Order: | Gruiformes |
| Family: | Otididae |
| Genus: | Ardeotis |
| Species: | australis |
| Common Name: | Australian Bustard |