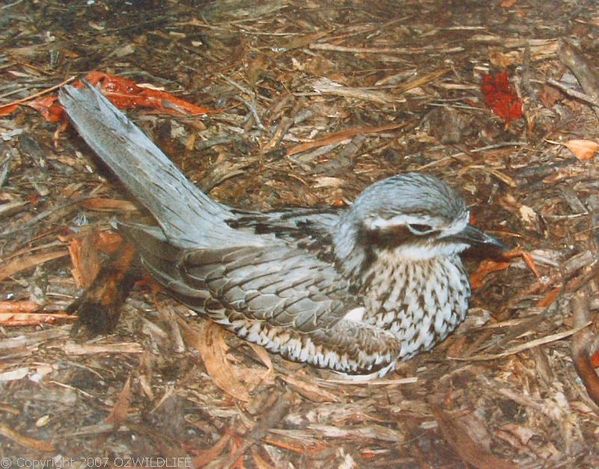 Bush Stone-curlew photographed at Currumbin Sanctuary, Gold Coast, Australia.

Image by ozwildlife - Some rights reserved.


BUSH STONE-CURLEW FACTS
Description
The Bush Stone-curlew is a large long-legged bird that is well camouflaged in grey and brown colours. When approached it freezes. Often active at night, when its loud wailing sound can be heard from a long distance. Sometimes seen in the outer suburbs.

Size
55cm

Habitat
Open woodland where it moves amongst groundcover of dead branches, twigs and leaves.

Food
insects, molluscs, small lizards, seeds and occasionally small mammals

Breeding
Lays 1-3 eggs in a shallow scrape in the ground

Range
throughout Australia.





Map is from Atlas of Living Australia website at https://biocache.ala.org.au licensed under Creative Commons Attribution 3.0 Australia License


Conservation Status
The conservation status in the 2004 IUCN Red List of Threatened Animals is "lower risk/near threatened".

Classification

| | |
| --- | --- |
| Class: | Aves |
| Order: | Charadriiformes |
| Family: | Burhinidae |
| Genus: | Burhinus |
| Species: | grallarius |
| Common Name: | Bush Stone-curlew |