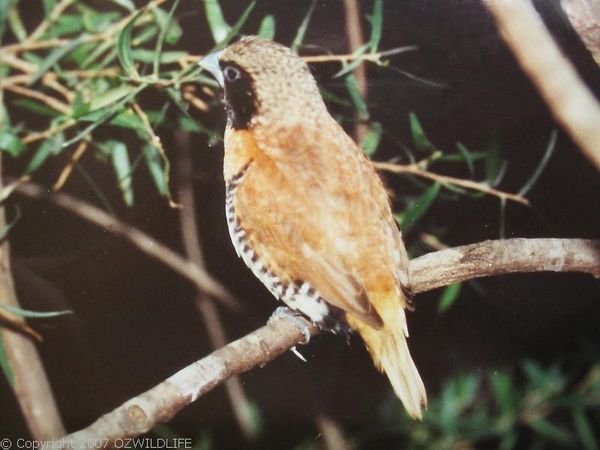 Chestnut-breasted Mannikin photographed at Currumbin Sanctuary

Image by ozwildlife - Some rights reserved.


BIRD FACTS
Description
The Chestnut-breasted Mannikin is a small finch with strong silvery bill

Other Names
Barley bird, Bullfinch

Size
10 cm

Habitat
grasslands, pastures, wastelands, roadsides

Food
Mainly seeds, also insects

Breeding
cup made of twigs, grass, lined with soft plat material, fur. 4-6 blue-white spotted eggs.


Map is from Atlas of Living Australia website at https://biocache.ala.org.au licensed under Creative Commons Attribution 3.0 Australia License
Classification
| | |
| --- | --- |
| Class: | Aves |
| Order: | Passeriformes |
| Family: | Estrildidae |
| Genus: | Lonchura |
| Species: | castaneothorax |
| Common Name: | Chestnut-breasted Mannikin |
Relatives in same Genus
Java Sparrow (L. oryzivora)
Nutmeg Munia (L. punctulata)