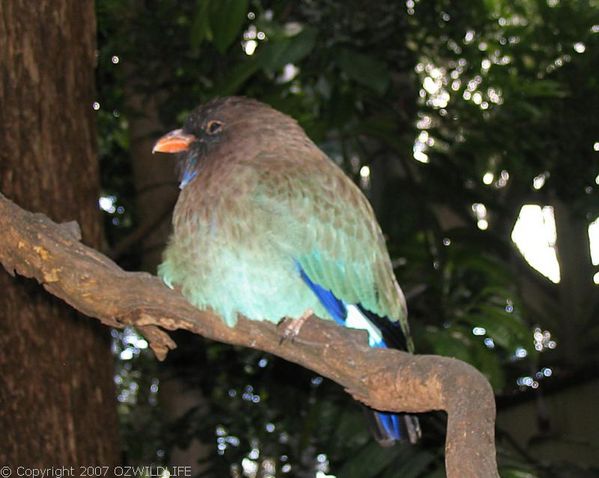 Dollarbird photographed at Walkabout Creek, Brisbane Forest Park.

Image by ozwildlife - Some rights reserved.


DOLLARBIRD FACTS
Description
The Dollarbird has mostly dark brown upperparts with blue-green on the back and wings. The breast is brown and underside is light. The throat and underside of the tail is bright blue. It is a sturdy bird with an unusual swooping flight. There is a large white spot on the underside of each wing, giving it the name "dollar" bird. It is a summer migrant to Australia.

Other Names
Broad-billed Roller

Size
28cm

Habitat
open wooded areas

Food
Food is mainly large insects that it catches in flight.

Breeding
3-4 white eggs are laid in an unlined tree hollow

Range
Arrives in northern and eastern Australia in September. Spends winter in New Guinea and nearby islands.


Map is from Atlas of Living Australia website at https://biocache.ala.org.au licensed under Creative Commons Attribution 3.0 Australia License
Classification
| | |
| --- | --- |
| Class: | Aves |
| Order: | Coraciiformes |
| Family: | Coraciidae |
| Genus: | Eurystomus |
| Species: | orientalis |
| Common Name: | Dollarbird |