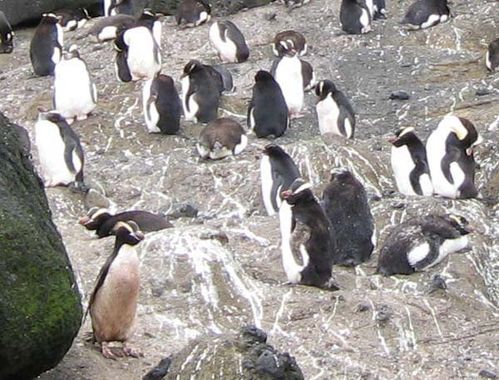 Erect-crested Penguin (Eudyptes sclateri) colony, Anchorage Bay, Antipodes Island, New Zealand

Image by LawrieM - License: Public Domain. (view image details)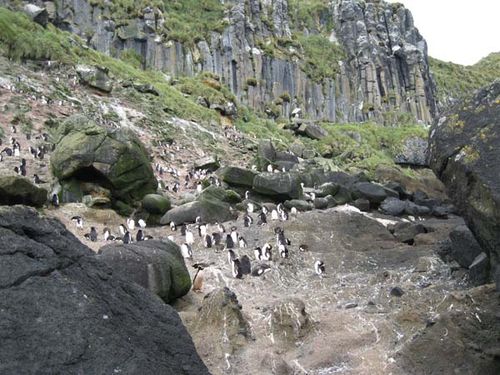 Erect-crested Penguin (Eudyptes sclateri) colony, Anchorage Bay, Antipodes Island, New Zealand.

Image by LawrieM - License: Public Domain. (view image details)


BIRD FACTS
Description
The Erect-crested Penguin is a crested penguin with black face, black throat, black back and wings and white underside. As its name indicates, it has a "sticking up" spiky yellow crest. The bill is dark orange with a patch of bare skin at the base of the bill. Immature birds are greyish with small crest.

Size
70 cm

Habitat
open ocean, rocky coastland

Food
krill, fish, squid

Breeding
nest in large colonies on rocky terrain

Range
It breeds on islands off New Zealand. It is a vagrant to Australia.


Map is from Atlas of Living Australia website at https://biocache.ala.org.au licensed under Creative Commons Attribution 3.0 Australia License
Classification
| | |
| --- | --- |
| Class: | Aves |
| Order: | Sphenisciformes |
| Family: | Spheniscidae |
| Genus: | Eudyptes |
| Species: | sclateri |
| Common Name: | Erect-crested Penguin |
Relatives in same Genus
Rockhopper Penguin (E. chrysocome)
Macaroni Penguin (E. chrysolophus)
Fiordland Penguin (E. pachyrhynchus)
Snares Penguin (E. robustus)
Royal Penguin (E. schlegeli)