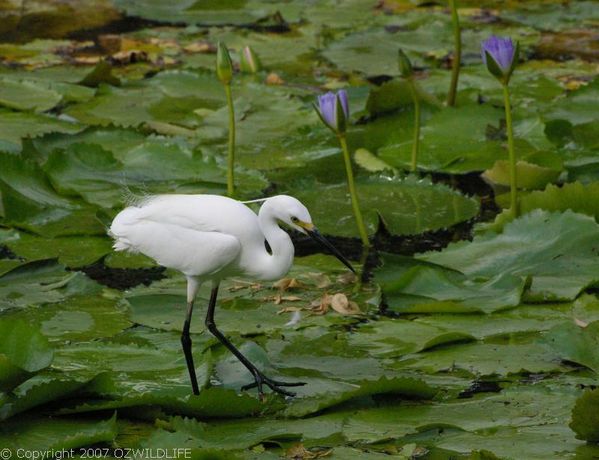 Little Egret foraging on lily pads, Mt Coot-tha botanic gardens, Brisbane

Image by ozwildlife - Some rights reserved.


LITTLE EGRET FACTS
Description
The Little Egret is a small white egret with grey-black legs, black bill and a bright yellow naked face. In the breeding season has two long head plumes,

Other Names
Lesser Egret

Size
60cm

Habitat
tidal mudflats, saltwater and freshwater wetlands, and mangroves

Food
invertebrates, fish and amphibians

Breeding
Builds sparse nest of sticks. Lays 3-5 pale blue-green eggs.

Range
northern, eastern and south-eastern Australia.


Map is from Atlas of Living Australia website at https://biocache.ala.org.au licensed under Creative Commons Attribution 3.0 Australia License
Classification
| | |
| --- | --- |
| Class: | Aves |
| Order: | Ciconiiformes |
| Family: | Ardeidae |
| Genus: | Egretta |
| Species: | garzetta |
| Common Name: | Little Egret |
Relatives in same Genus
Intermediate Egret (E. intermedia)
White-faced Heron (E. novaehollandiae)
Reef Heron (E. sacra)