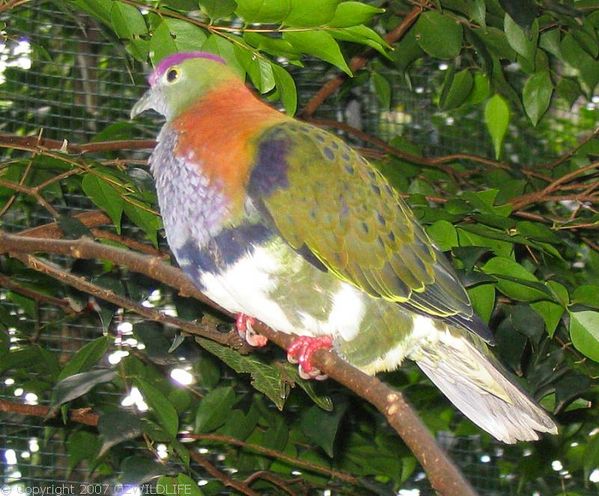 Purple-crowned Pigeon photographed at Walkabout Creek, Brisbane Forest Park.

Image by ozwildlife - Some rights reserved.


BIRD FACTS
Description
The Purple-crowned Pigeon is a beautiful brightly coloured small pigeon. The male has purple crown, chestnut orange on back of neck, blue-black breast band separating grey chest from white belly.. The female has purple patch on rear of crown, and no breast band. Immatures are mostly green with yellow on wings and pale underside.

Other Names
Purple-crowned Fruit Dove

Size
22 - 24cm

Habitat
rainforest, thickly wooded creeks

Food
seeds, fruit, berries, small insects

Breeding
nest is light platform of twigs high in vine or tree. Lays 1 white oval egg

Range
East coastal Queensland from Cape York to around Rockhampton. Occasionally seen in south east Queensland and northern New South Wales, but does not breed this far south.


Map is from Atlas of Living Australia website at https://biocache.ala.org.au licensed under Creative Commons Attribution 3.0 Australia License
Classification
| | |
| --- | --- |
| Class: | Aves |
| Order: | Columbiformes |
| Family: | Columbidae |
| Genus: | Ptilinopus |
| Species: | superbus |
| Common Name: | Purple-crowned Pigeon |
Relatives in same Genus
Wompoo Pigeon (P. magnificus)
Rose-crowned Pigeon (P. regina)