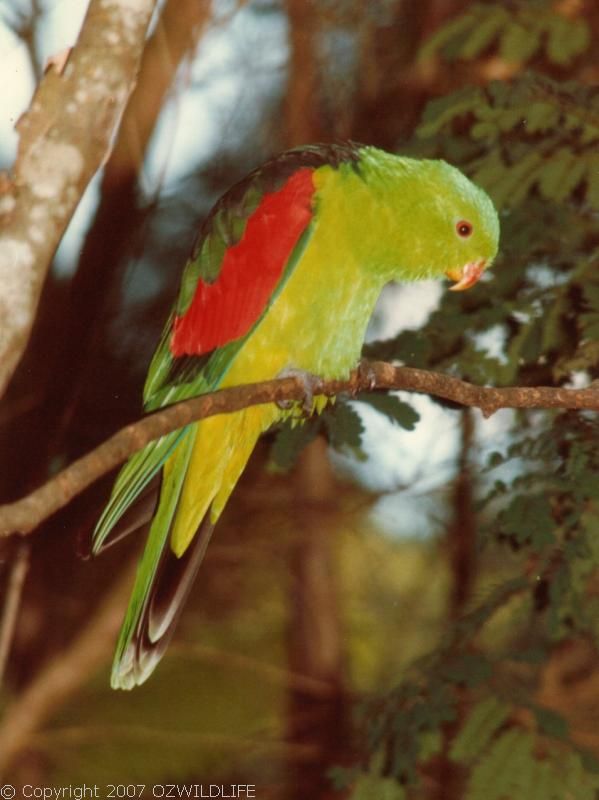 Red-winged Parrot photographed at Currumbin Sanctuary, Gold Coast, Australia.

Image by ozwildlife - Some rights reserved.


RED-WINGED PARROT FACTS
Description
The Red-winged Parrot is a green parrot with large red shoulder patches. It is seen in pairs or small flocks in open woodland areas.

Size
32cm

Habitat
dry woodlands, timber-lined watercourses and arid scrub

Food
seeds, nectar, pollen and blossoms, insects and larvae

Breeding
Eggs are laid in the hollow trunk of a tall tree, often near the ground. Lays 4-6 eggs.

Range
northern and eastern Australia and are also found in southern New Guinea and Irian Jaya.


Map is from Atlas of Living Australia website at https://biocache.ala.org.au licensed under Creative Commons Attribution 3.0 Australia License
Classification
| | |
| --- | --- |
| Class: | Aves |
| Order: | Psittaciformes |
| Family: | Psittacidae |
| Genus: | Aprosmictus |
| Species: | erythropterus |
| Common Name: | Red-winged Parrot |