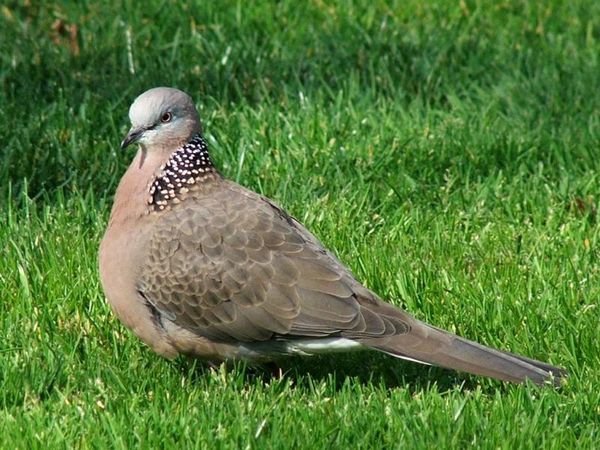 Spotted Turtle-Dove

Photograph copyright: Nickolay Tilcheff - all rights reserved. Used with permission.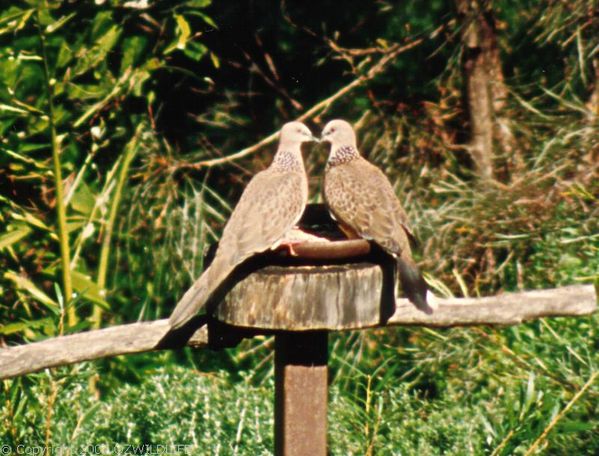 Spotted Turtle-Doves in suburban backyard in Brisbane.

Image by ozwildlife - Some rights reserved.


SPOTTED TURTLE-DOVE FACTS
Description
The Spotted Turtle-Dove id light brown above, with grey and grey-brown underside. Has black collar with white spots. Young are similar to adults, but have dark grey collar with no spots.

Size
32cm

Habitat
parks, gardens and agricultural areas.

Food
seeds, fruit, berries, small insects

Breeding
The nest is a loose platform of sticks. Lays 2 whit eggs.

Range
Introduced from Asia. Found in eastern Australia, and around the major towns and cities in southern and south-western Australia.


Map is from Atlas of Living Australia website at https://biocache.ala.org.au licensed under Creative Commons Attribution 3.0 Australia License
Classification
| | |
| --- | --- |
| Class: | Aves |
| Order: | Columbiformes |
| Family: | Columbidae |
| Genus: | Streptopelia |
| Species: | chinensis |
| Common Name: | Spotted Turtle-Dove |
Relatives in same Genus
Laughing Turtle-Dove (S. senegalensis)