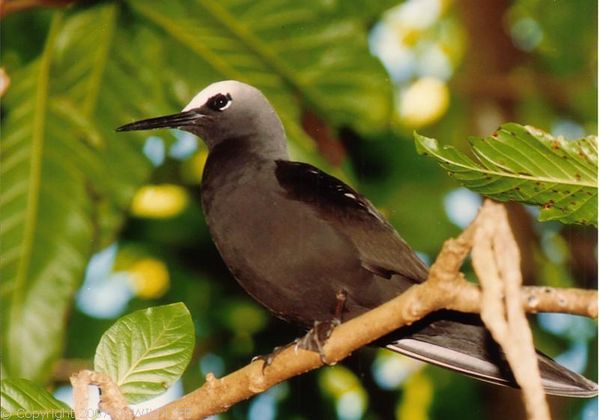 White-capped Noddy photographed on Heron Island on the Great Barrier Reef, Queensland

Image by ozwildlife - Some rights reserved.


WHITE-CAPPED NODDY FACTS
Description
The White-capped Noddy is a type of tern often seen around Pacific islands including the Great Barrier Reef. It is a very dark colour with white cap. Young birds have darker cap, with white on the forehead. It has a long sharply pointed bill. The bill and feet are dark coloured. They live in colonies, and feed at sea, returning to their colony to roost in trees overnight. It is similar to the Common Noddy but is smaller and darker.

Other Names
Black Noddy

Size
33-36cm

Habitat
Tropical seas and ocean islands. Common on Heron Island, Queensland where over 70,000 birds roost in breeding season.

Food
They feed at sea on fish

Breeding
They nest in trees in large colonies. The nest is made of dried leaves and seaweed covered with bird droppings. They lay a single creamy white egg with brownish blotches.

Range
In Australia, it is found mainly off the coast of Queensland around the Great Barrier reef, including islands such as Lady Elliot Island and Heron Island. It is found around the world in tropical and subtropical areas.


Map is from Atlas of Living Australia website at https://biocache.ala.org.au licensed under Creative Commons Attribution 3.0 Australia License
Classification
| | |
| --- | --- |
| Class: | Aves |
| Order: | Charadriiformes |
| Family: | Laridae |
| Genus: | Anous |
| Species: | minutus |
| Common Name: | White-capped Noddy |
Relatives in same Genus
Common Noddy (A. stolidus)
Lesser Noddy (A. tenuirostris)