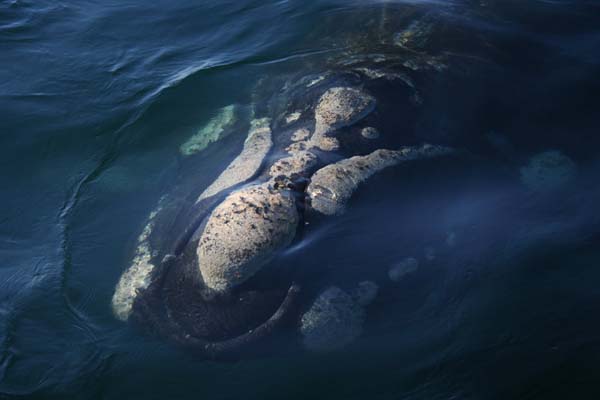 Southern right whale (Peninsula Valdťs, Patagonia, Argentina)

Image by MichaŽl Catanzariti - License: Public Domain. (view image details)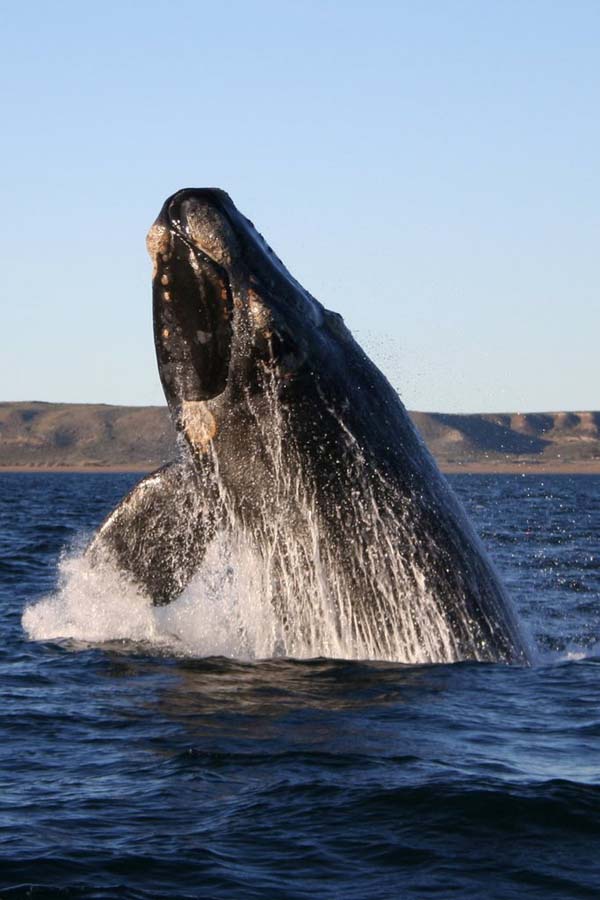 Southern right whale

Image by MichaŽl Catanzariti - License: Public Domain. (view image details)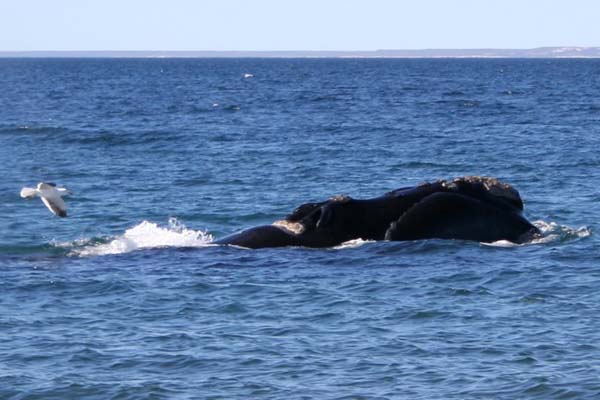 Southern right whale

Image by MichaŽl Catanzariti - License: Public Domain. (view image details)


MAMMAL FACTS
Description
The Southern Right Whale is mostly black and may have white belly patches. It has short wide flippers and no dorsal fin. The body is large and rounded and mouth is highly arched when viewed from side. There are also horny growths (called callosities) on the head. The Southern Right Whale has two blow holes that produce a distinctive V-shaped cloud of vapour blown out when the whale surfaces to breathe.

Size
grow to 15-16m long

Habitat
Southern right whales live at latitudes between 20į-55į but will occasionally venture down to 63į.

Food
Southern Right Whales do not have teeth; instead they have 200-270 pairs of black comb-like baleen plates. They feed by taking in mouthfuls of water containing many tiny crustaceans. The crustaceans get trapped as the water strains out through the gaps between the baleen and are swallowed.

Breeding
each winter the whales leave their sub-Antarctic feeding areas and travel north to warmer waters to calf. The calves are fed thick, rich milk and they can gain about 90 kg per day. The adults and young migrate to the sub-Antarctic feeding grounds in spring.

Range
southern oceans all around the world.





Map is from Atlas of Living Australia website at https://biocache.ala.org.au licensed under Creative Commons Attribution 3.0 Australia License


Conservation Status
The conservation status in the 2004 IUCN Red List of Threatened Animals is "lower risk/conservation dependent".

Classification

| | |
| --- | --- |
| Class: | Mammalia |
| Order: | Cetacea |
| Family: | Balaenidae |
| Genus: | Eubalaena |
| Species: | australis |
| Common Name: | Southern Right Whale |