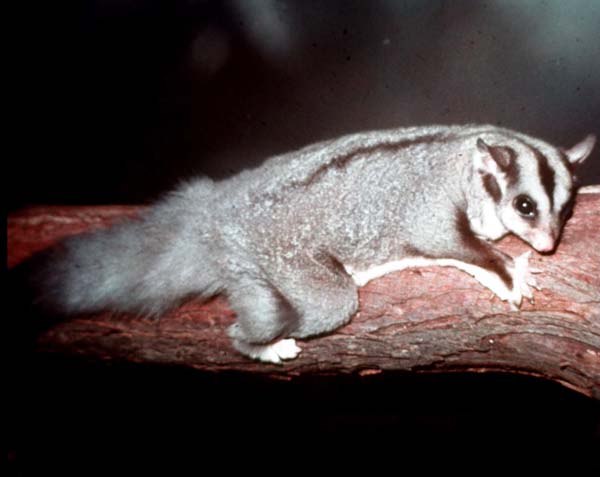 Squirrel Glider at Lone Pine Koala Sanctuary in Brisbane, Queensland, Australia

Image by Figaro - License: Public Domain. (view image details)


SQUIRREL GLIDER FACTS
Description
The Squirrel Glider looks similar to the Sugar Glider but is larger and has more pointed nose, narrower ears and bushier furry tail. The underside is white

Other Names
Flying Squirrel, Sugar Squirrel, Squirrel Flying Phalanger

Size
head and body 18-23cm. Tail 22-30cm. It weighs about200-260g - nearly double the weight of the Sugar Glider.

Habitat
dry eucalypt forest and woodland. Also found in wet areas near rainforest

Food
nectar, pollen, sap from eucalypts, also insects. It bites the bark of eucalypt trees to obtain the sap.

Breeding
A single young is carried I the pouch for about 100 days. It remains in the nest for another two months after it leaves the pouch before becoming independent.

Range
Eastern Australia from Queensland to Victoria. Does not inhabit the coastal strip.





Map is from Atlas of Living Australia website at https://biocache.ala.org.au licensed under Creative Commons Attribution 3.0 Australia License


Conservation Status
The conservation status in the 2004 IUCN Red List of Threatened Animals is "lower risk/near threatened".

Classification

| | |
| --- | --- |
| Class: | Mammalia |
| Order: | Diprotodontia |
| Family: | Petauridae |
| Genus: | Petaurus |
| Species: | norfolcensis |
| Common Name: | Squirrel Glider |
Relatives in same Genus
Yellow-bellied Glider (P. australis)
Sugar Glider (P. breviceps)