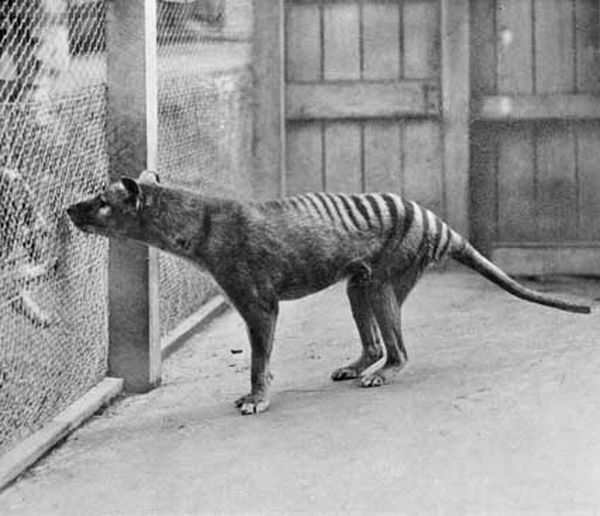 Tasmanian Tiger (Thylacine) photographed at the Hobart Zoo in 1933

Image by unknown - License: Public Domain. (view image details)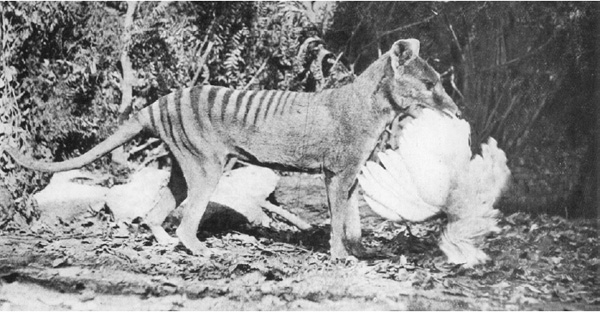 Tasmanian Tiger (Thylacine) photographed in cage with chicken in 1921.

Image by Henry Burrell - License: Public Domain. (view image details)


MAMMAL FACTS
Description
The Tasmanian Tiger is extinct - the last Tasmanian Tiger in captivity died in 1936. There are still some who hold out hope that it may still survive in remote parts of Tasmania, but this is extremely unlikely. The tiger is a sandy colour with brown bands across back. The bands are broader towards rear. The head is similar shape to a dog head. The tail held out stiffly behind.

Other Names
Tasmanian Wolf

Size
100-130cm. Tail 50-65cm

Habitat
open forest and woodland

Food
kangaroos and wallabies

Breeding
records show that it gave birth to 2-3 young

Range
The distribution map shows the former range in Tasmania. Was once widespread on mainland but became extinct there long before European settlement.





Map is from Atlas of Living Australia website at https://biocache.ala.org.au licensed under Creative Commons Attribution 3.0 Australia License


Notes
The species was hunted for decades, but there may also have been disease involved in its extinction. The Tasmainian government passed laws to protect it in 1936, but it was too late by then to save it.

Conservation Status
The conservation status in the 2004 IUCN Red List of Threatened Animals is "extinct".

Classification

| | |
| --- | --- |
| Class: | Mammalia |
| Order: | Dasyuromorphia |
| Family: | Thylacinidae |
| Genus: | Thylacinus |
| Species: | cynocephalus |
| Common Name: | Tasmanian Tiger (Thylacine) |