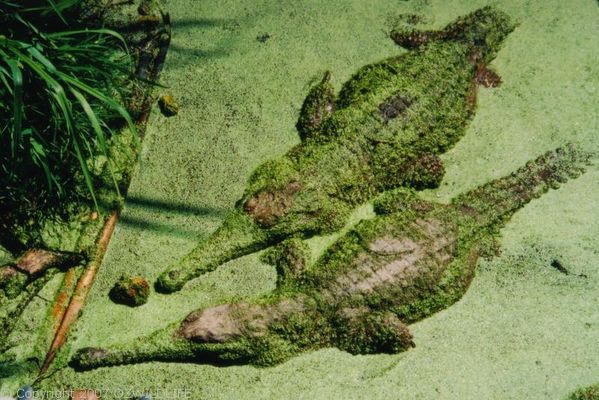 Freshwater Crocodile at Currumbin Sanctuary, Gold Coast, Queensland Australia. These two are covered in floating weed.

Image by ozwildlife - Some rights reserved.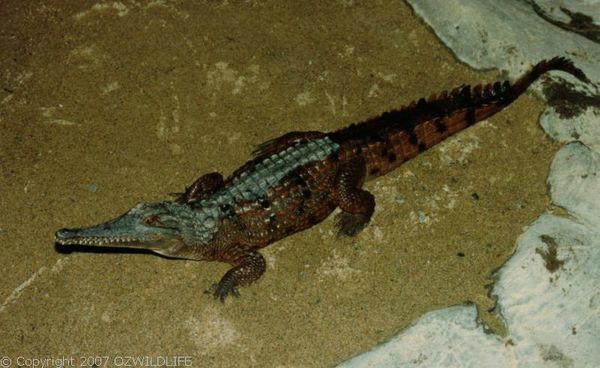 Freshwater Crocodile at Underwater World, Sunshine Coast, Queensland Australia. These are much smaller than the Saltwater Crocodile, and are not dangerous to people (unless you stick your hand in their mouth...)

Image by ozwildlife - Some rights reserved.


REPTILE FACTS
Description
The Freshwater Crocodile is grey or greenish-brown above, with mottled flanks. Long, smooth and slender snouts. A freshwater crocodile can be distinguished from an estuarine crocodile by its narrow snout and evenly shaped and sized needle-like teeth.

Other Names
Johnstone crocodile, Freshies

Size
Males rarely grow more than 2.5m long, females grow to 1.8m long.

Habitat
freshwater rivers, gorges and billabongs

Food
fish, frogs, turtles and other small animals

Breeding
Between four and 20 eggs, usually about 12, are laid in holes dug in sand or soil near the water's edge. The sex of the young is determined by nest temperature. Like estuarine crocodiles low and high temperatures produce mostly females, while middle range (32C) temperatures produce mostly males. The young crocodiles eat insects. As they grow they feed on tadpoles frogs, water snails and small fish.

Range
Northern Australia, including the Kimberley, Northern Territory and Queensland. In Queensland, they are found mainly in the rivers and swamps of Cape York Peninsula, areas bordering the Gulf of Carpentaria and the north-west.





Map is from Atlas of Living Australia website at https://biocache.ala.org.au licensed under Creative Commons Attribution 3.0 Australia License


Notes
Not usually dangerous to people, but care should be taken in crocodile country.



Classification

| | |
| --- | --- |
| Class: | Reptilia |
| Order: | Crocodilia |
| Family: | Crocodylidae |
| Genus: | Crocodylus |
| Species: | johnstoni |
| Common Name: | Freshwater Crocodile |
Relatives in same Genus
Saltwater Crocodile (C. porosus)