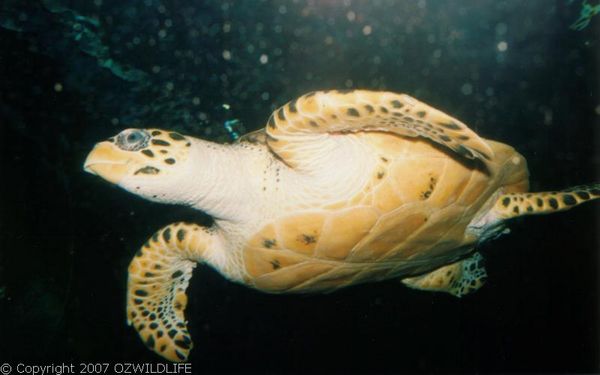 Green Turtle photographed at Underwater World, Sunshine Coast. Length about 1m.

Image by ozwildlife - Some rights reserved.


GREEN TURTLE FACTS
Description
The Green Turtle has a small head and strong front flippers. It gets its name from the colour of its fat rather than the colour of its shell.

Size
45-120 cm

Habitat
Coastal waters, sea grass, oceans, coral reefs

Food
sea grasses, seaweeds and mangrove fruits

Breeding
The females only come to land to lay eggs on a sandy beach, where they dig a hole and lay about 100 eggs and then cover them with sand. Once hatchlings (baby turtles) reach the sea, only the females will ever return to the land again when they come to lay their eggs as adults.

Range
Tropical and subtropical areas of the Indo-Pacific region.





Map is from Atlas of Living Australia website at https://biocache.ala.org.au licensed under Creative Commons Attribution 3.0 Australia License


Conservation Status
The conservation status in the 2004 IUCN Red List of Threatened Animals is "endangered".

Classification

| | |
| --- | --- |
| Class: | Reptilia |
| Order: | Testudines |
| Family: | Cheloniidae |
| Genus: | Chelonia |
| Species: | mydas |
| Common Name: | Green Turtle |