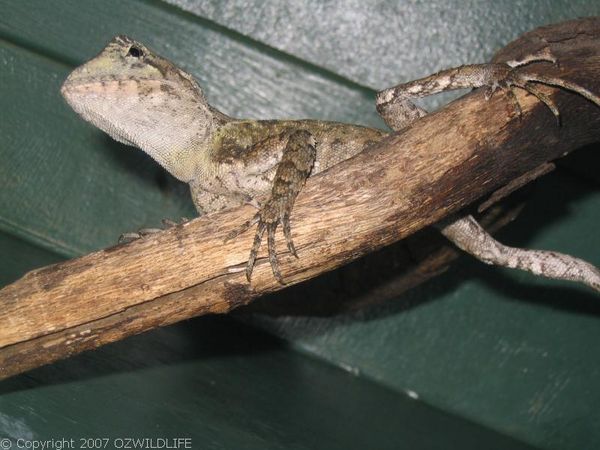 Southern Angle-headed Dragon photographed at Lone Pine Koala Sanctuary, Brisbane, Queensland.

Image by ozwildlife - Some rights reserved.


REPTILE FACTS
Description
The Southern Angle-headed Dragon ranges from greenish-grey to brown in colour. Has a raised flap of skin with spines on the neck. It is similar to Boyd's Forest Dragon which has even more prominent spines and flaps.

Size
about 40cm long including the long tail

Habitat
rain forest and wet eucalypt forests.

Food
beetles, cockroaches and spiders.

Breeding
Two to seven eggs are laid in a shallow depression dug into the soil. These hatch in 2-3 months.

Range
South Queensland and northern New South Wales coastal ranges.


Map is from Atlas of Living Australia website at https://biocache.ala.org.au licensed under Creative Commons Attribution 3.0 Australia License
Classification
| | |
| --- | --- |
| Class: | Reptilia |
| Order: | Squamata (Sauria) |
| Family: | Agamidae |
| Genus: | Hypsilurus |
| Species: | spinipes |
| Common Name: | Southern Angle-headed Dragon |
Relatives in same Genus
Boyd's Forest Dragon (H. boydii)